At Avalara, we win together.
Our success hinges on our people. We attract and develop the best talent to strengthen our diverse and inclusive team.
Global Employee Resource Groups
With their focus on increasing belonging and building community, ERGs, celebrate, lift up, and strengthen all Avalarians.
Access
Promotes and lifts up the voices of Avalarians with physical and/or mental disabilities.
HOLA
HOLA (Hispanic/Latinx, Outreach, Leadership, and Advancement) supports nuestra gente by fostering cultural awareness, professional development, leadership, and advancement.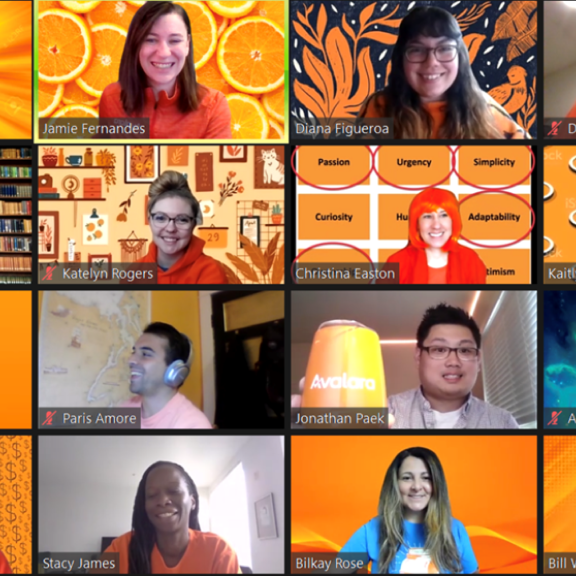 Node
Supports global remote workers and monitors the evolution of remote work while creating opportunities to build connection and community.
Noonchi
Supports the personal and professional development of Asians at Avalara while driving awareness and education regarding the Pan-Asian experience.
Prism
Seeks to elevate LGBTQ+ voices at Avalara and influence Avalarians to understand, celebrate, and promote diverse voices and experiences.
Ujima
Fosters community for Black Avalarinas and highlights diverse voices through events that develop Black Avalarians and allies.
Veterans of Avalara (VoA)
Works to advance the recruitment, retention, support, and careers of Veterans at Avalara.
Employees of Avalara
A platform that champions and supports employees' unique positions, needs, and gifts while building community.
Always learning
Avalara offers a diverse slate of learning opportunities to foster a positive culture, build thriving teams, and deliver results.
85%
of all employees completed DEI training in 2022
In 2022
Avalara recognized two new ERGs for a total of eight ERGs
OVER A DOZEN
conferences annually that offer employees opportunities for professional development
Avalara is a great place to be!
Our teams are committed to working together, caringe for each other, and building a better future.
Voices of Avalara
Hear from Avalarians on why they work here at Avalara and what it means to be a part of our Employee Resource Groups.